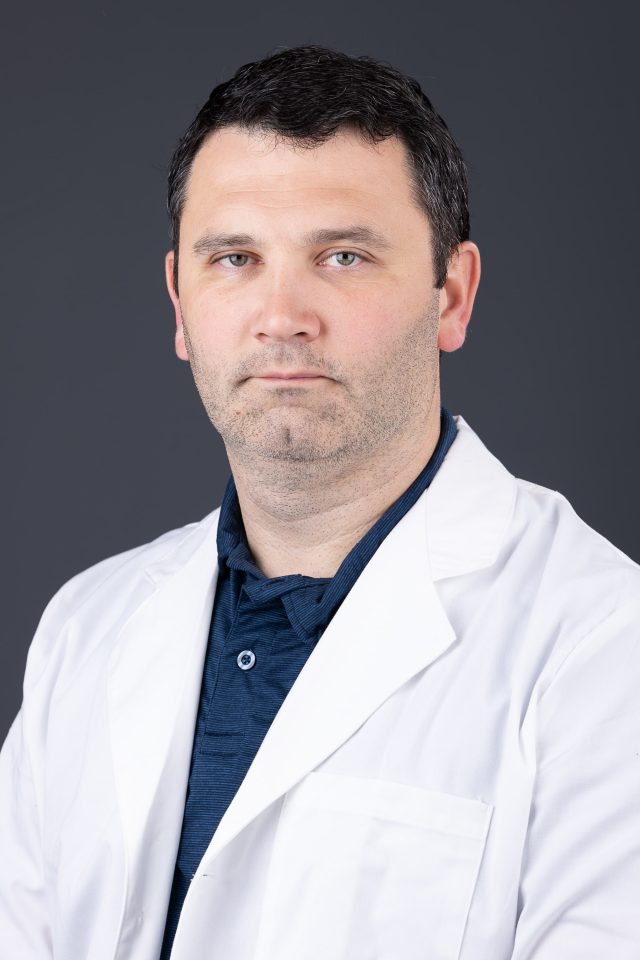 About
Alex began his role as PA-C in Urgent Care with Physicians East on June 5, 2023. His strong background in emergency medicine has prepared him for the demanding requirements of this position.
He received an Associate of Applied Science in Respiratory Care from Thomas Edison State University in Trenton, NJ.  He returned to the education field in 2011 to focus on a Bachelor of Science in Microbiology at East Tennessee State University, where he graduated summa cum laude. Alex achieved a Bachelor of Science in Physician Assistant Studies from the University of Nebraska Medical Center and completed his Master of Physician Assistant Studies at this university in 2016. He is certified in NIOSH Spirometry, Pre-Hospital Trauma Life Support, Advanced HAZMAT Life Support, Advanced Burn Life Support, Advanced Trauma Life Support, Pediatric Advanced Life Support, and Basic Life Support for Health Care Providers.
He honored his country by entering the US Army as an Infantryman in 2005.  He served in the Special Forces as Medical Sergeant with the 10th Special Forces Group, fulfilling duties of emergency, routine, and long-term care for detachment members and associated allied or indigenous personnel. He trained, advised, and directed personnel in routine, emergency, and preventive medicine. Alex provided trauma management to US and coalition casualties during mass casualty situations in Afghanistan.  He was responsible for coordinating, planning, and executing multiple medical engagements in local communities in Africa and Afghanistan involving coalition forces and non-governmental organizations, providing primary care to over 900 patients.
He served as Emergency Medical Physician Assistant at UNC Lenoir and WAMC in Fort Bragg, NC.  His duties consisted of patient care to the military and dependent population in an emergency medical setting. Alex routinely performed emergency care, minor surgical procedures, exams, and evaluations of patients, ordered tests and imaging, instituted treatment plans, and referred to specialty care as required.
As a Physician Assistant in the 42nd Civil Support Team, North Carolina National Guard, he was responsible for maintaining medical readiness for a 22-man Hazmat Response Team.  Alex conducted routine occupational screenings and immunizations, and he ordered, maintained, and properly disposed of mission-essential Chemical, Biological, Radiological, Nuclear, and Explosives (CBRNE) formulary, including antidotes and controlled medications. He maintained proficiency in trauma, burn, and HAZMAT casualty treatment. He responded to CBRNE incidents with the team to serve as a medical response officer and liaison between the National Guard and civil medical authorities.
He likes to keep his hands busy and finds that a good video game is very rewarding.