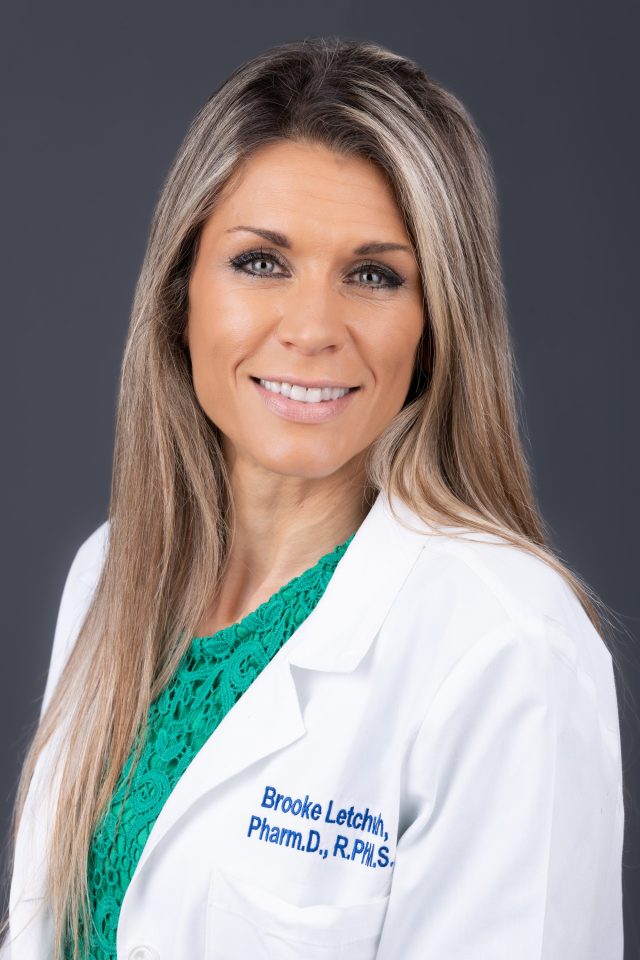 Brooke Letchworth
Pharmacist
About
Brooke Letchworth began her role as a Pharmacist with Physicians East on March 3, 2023.
She obtained her degree as Doctor of Pharmacy at Campbell University College of Pharmacy and Health Sciences in Buies Creek, NC.   She graduated summa cum laude.   She was inducted into the Rho Chi Pharmacy Honor Society in 2011.  She attended North Carolina State University in Raleigh from 2004 to 2008 where she was recognized as being in the top 3% of her class.    She enjoyed participating in the varsity softball team.  She is certified in Pharmacy-Based Immunization Delivery and as a Contraceptive Trained Pharmacist through the North Carolina Association of Pharmacists and was certified in Basic Life Support for Healthcare Professionals through the American Heart Association.
Dr. Letchworth began her career in pharmacy at Tar Heel Drug in July, 2013 as a Pharmacist Manager supervising two registered pharmacists and five pharmacy technicians.   She moved to Bryan Drugs in March 2017 where she performed the role of Pharmacist Manager.  She supervised a registered pharmacist and three pharmacy technicians.  Her duties included filling and dispensing an average of 250 prescriptions per day, providing immunizations as a certified immunizing pharmacist, and conducting medication therapy management utilizing Mirixa and Outcomes-MTM platforms.  She developed company policies and procedures for simple compounding according to USP 795, and packaged and dispensed medications in MedPack adherence packaging. She provided pharmaceutical care to residents of The Fountains at the Albemarle retirement community, including Independent Living, Assisted Living, Memory Care, and Skilled Nursing units.  She conducted an in-service presentation for seniors at the retirement community regarding safe medication storage/disposal and falls prevention.   Dr. Letchworth served as site coordinator for the UNC Eshelman School of Pharmacy Falls Risk Study.  She performed patient falls risk screening, medication review, conducted fall prevention education, and prescriber communication according to the study protocol.     She joined CVS Pharmacy in July 2022 as a Pharmacist Manager and moved to Bryan Drugs in August 2022 to fill role of Staff Pharmacist.
She is a self-motivated individual who exhibits attentiveness to patients, is a skillful manager, and is recognized for her exceptional attention to detail.  She loves running, gardening, and spending time outdoors with her husband and three children.